The Wellington Jazz Festival is delighted to announce our commission recipients: Blair Latham, Kevin Field, Anita Schwabe and Riki Gooch. 
These talented Aotearoa musicians will compose brand new jazz works that will be performed at the 2020 Wellington Jazz Festival, 18 -22 November. The impact of Covid-19 on international touring means this series of World Premiere commissions will be at the heart of the 2020 Wellington Jazz Festival programme, a true celebration of the sounds and talents of Aotearoa.
Festival Creative Director Marnie Karmelita says, 'With over 70 submissions, the selection panel were impressed with the vast wealth of talent and innovation on display from across the Aotearoa-New Zealand jazz scene. It was a difficult decision to award just four commissions, but we are thrilled with the result; which displays such a diverse range of styles.

'We would like to offer our congratulations to the successful composers but also our thanks to everyone who submitted. I would like to add my personal thanks to the selection panel for their time and energy: Tom Rainey, Warren Maxwell and Jasmine Lovell-Smith.

'We are all excited to see these composers take to the stage with their new music come the Festival in November.'

Blair Latham is a saxophonist, multi-instrumentalist and familiar face in the local jazz scene, who performed at the 2019 Wellington Jazz Festival with his group The Little Blast Orchestra. His other projects include The Noveltones, Little Symphony Sax Quartet, Devils Gate Outfit and the Air Force Jazz Orchestra.

Kevin Field is a pianist and Auckland University lecturer, who has featured on more than 40 albums and collaborated with some of the top international names in jazz including Grammy-nominated guitarists Mike Moreno and Nir Felder, and Charles Haynes – drummer/producer for Kanye West and Lady Gaga. His 2015 album with group DOG won the NZ Best Jazz Album Award. Kevin will be collaborating throughout the composition process with acclaimed Kiwi bassist Matt Penman, who is currently based in New York. Matt was a member of the prestigious SFJazz Collective from 2005-2018. 
Frequent Wellington Jazz Festival contributor, pianist and NZ School of Music lecturer Anita Schwabe was awarded the APRA Best Jazz Composition in 2018 for 'Springtide' from her album Eat Your Greens. Anita performs regularly with Rodger Fox's Wellington Jazz Orchestra, The Boptet and The Hiptown Bangers as well as in her own projects.

Drummer Riki Gooch has worked with a host of New Zealand's top musicians, including Jonathan Crayford, Bic Runga, Fat Freddy's Drop, The Phoenix Foundation, Crowded House, Dave Dobbyn and was also a founding member of Trinity Roots. His discography boasts more than 60 albums as a performer and producer, and he has composed for a wide array of projects across multiple genres and formats including film and television scores, theatre and dance.
These new commissions will premiere at the Festival, which will take place from 18 – 22 November in music venues, bars and eateries throughout the region. Keep an eye out for updates on the 2020 Wellington Jazz Festival programme over the coming months!
We'd like to thank Creative New Zealand and Todd Corporation for their generous support of the 2020 Wellington Jazz Festival Commissions.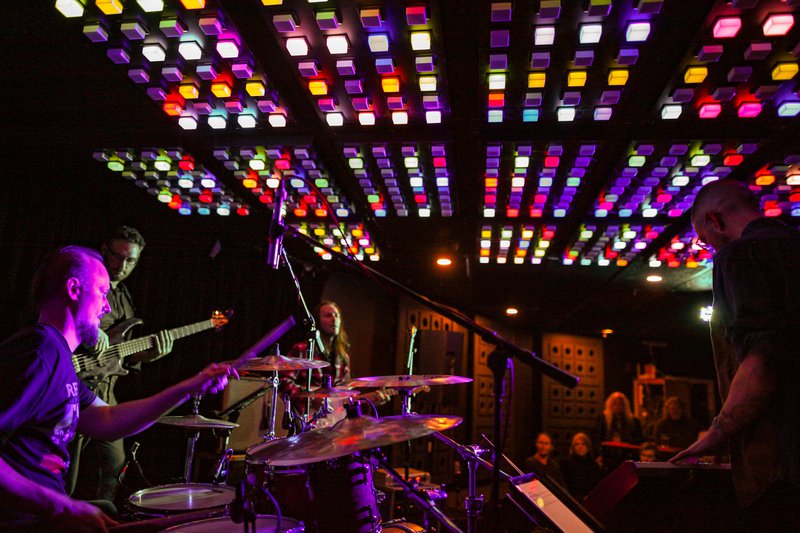 Psychedelic Future Jazz Funk at Caroline, 2019 Wellington Jazz Festival, credit Vanessa Rushton